General Study Structure
The study structure and required amount of credits per module category is the same for all specializations, while the concrete catalog of available choices for core modules differs. The general structure below shows the mandatory credit amounts in the different module categories (according to the Study Regulation 2019 annex). For the exact catalogs of available choices the module handbook and information available on C@mpus take precedence. Only modules listed on C@mpus can be taken.
Study Plan
The study plan schedules 30CP per semester and is designed to provide the necessary prerequisites. When making your own, please consider that some modules are recommended for the first semester, offered as block seminars or only offered every second semester. The plan below is meant to serve as an example of how you could plan your courses.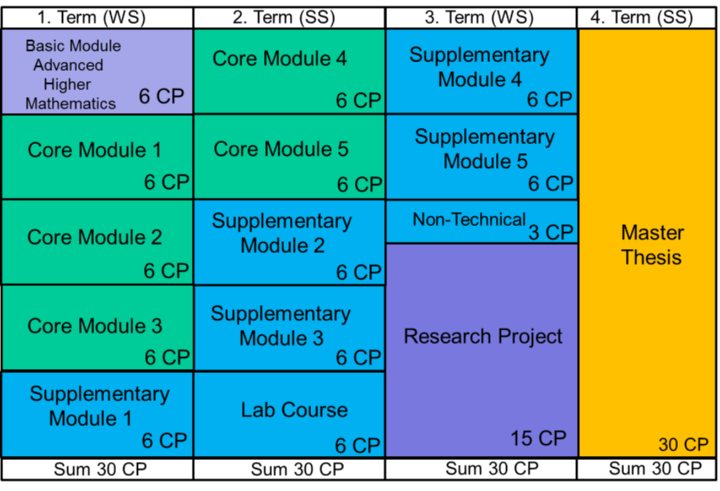 Courses recommended for the first semester
Here is a selection of supplementary modules that we recommended taking in the first semester as they provide the basic foundation for their respective area. You can only chose a maximum of two 3 CP supplementary modules (replacing one 6CP module).
Information about lab courses and seminar choice
During your studies you will take one lab course and potentially a seminar (as replacement for the research project). You have to register and receive a seat for labs and seminars to take part! Please avoid doing more than one lab during your studies (also not voluntarily) since seats are limited!
Labs and seminars have to be registered twice: for the seat with the institute offering it within the deadline AND on c@mpus during the regular exam registration period to receive the grade.
For both availability and registration check the lists on the pinboards of the institutes, online-registering systems etc.
Labs and seminars offered by the Department of CS:
Registration takes place online one semester in advance. The offer varies from year to year and is announced in a separate email.
Labs and seminars offered by the Department of EEIT:
See the institutes' webpages and pinboards before the new semester starts